Your career at Itten+Brechbühl AG
A unique career
IB is a diverse architectural and master planning firm that offers a variety of job opportunities. As architects and general contractors, we assume responsibility for the entire life cycle of a building. No other architectural and master planning firm in Switzerland offers such a broad spectrum of activities – from drafting and planning to project and construction management.
You'll be part of a network of generalists and specialists working in interdisciplinary, multinational teams and will be deployed at our different locations according to need and request.
Use this unique chance to expand and deepen your professional experience and be involved in the creation of landmark buildings in Switzerland.
Workplace and work culture
Our company is committed to the following:
Fair working conditions: we support equal opportunities and equal pay
Modern work practices and methods
Interesting opportunities for further development and training
Good pension fund solutions
Open and respectful dealings with employees, customers and the environment
Exciting and high-level projects in the architectural sphere
Open work culture and team culture: our employees are like family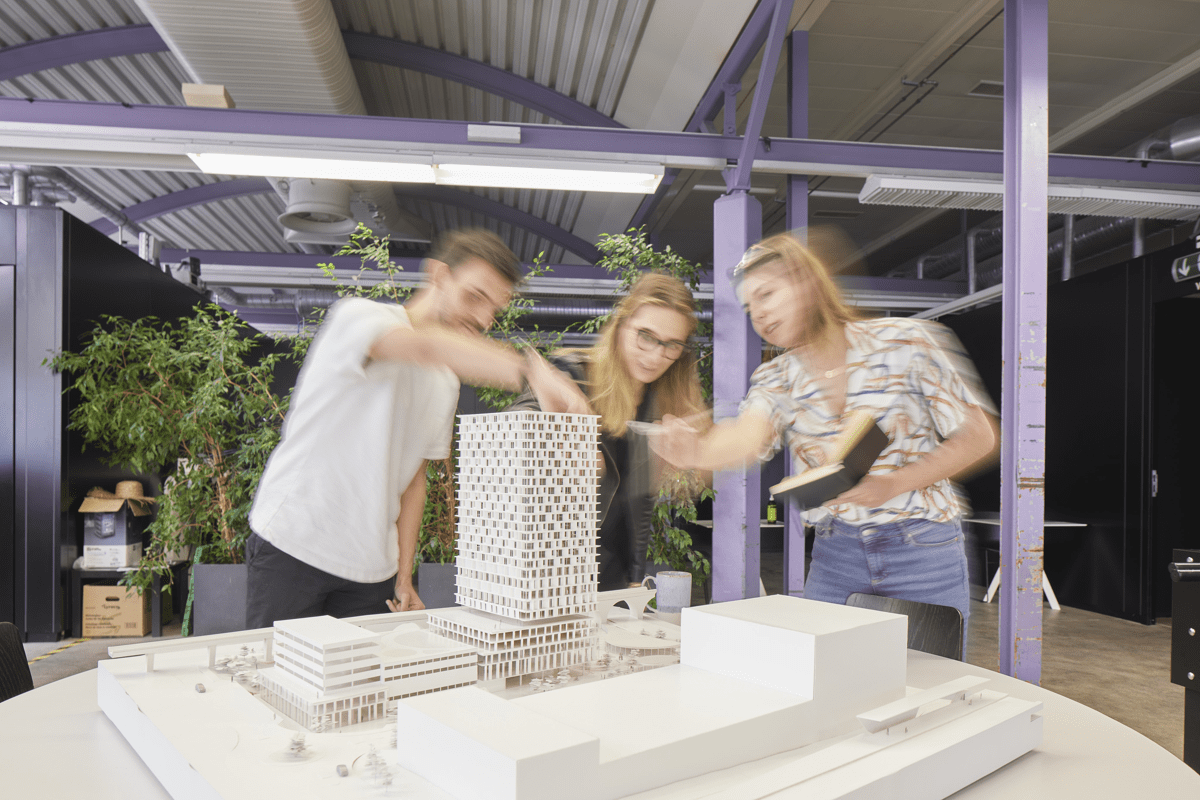 In our daily encounters with architecture and urban planning, our focus remains on people along with their ideas, wishes and requirements. We consider the impact of our works and aim to create added value for the environment as well as for the people living in it. This shapes our culture and the way that we work with one another.
We develop innovative solutions for complex construction projects. That is why we place great value on the further development and training of our employees as it brings the latest knowledge and developments to our years of experience. We support teamwork, individual commitment and benefiting from the strengths of all involved. This creates a creative and open working climate.
We build the future from the present.
I work at IB because it gives me the opportunity to build architectural structures that shape urban spaces, that are pioneering, expand our horizons and influence the history of architecture. In short, I work at IB because IB is architecture.

Tobias, Architect
Focus on people
Help us shape the future!
La Culture of oneness
At IB, we work in networks, in projects and also across locations. We meet one another with trust, creativity and openness. Our culture is shaped by you!
Flexible and project orientated
At IB, we encourage independent and project-orientated work. You can arrange your workday flexibly in accordance with the needs of the project. Our infrastructure offers you the possibility to work remotely from your computer. If your job allows it, you may choose where you work – whether partly from home, in the office or at one of our other locations. We respond flexibly to the individual needs of our employees (for example in adjustments to workloads) and work to find solutions together.
Joy in doing what we do
Together with our employees, we create an environment that forms the basis for excellence. We bring our strengths to shaping tomorrow's planning and construction. Trustworthy. Focused. Visionary.

We use focus groups ("communities") to present and discuss topics relevant to forward-looking architecture, allowing us to continue to develop our knowledge.

We are a training company, investing in the future by passing on our knowledge to the next generation. We are also an active sponsor for cultural and sports events.

When I was a child, I wanted to be a scientist, a pilot and a fireman. At IB I can be all of these. Welcome to the team.

Jürg, Site Director
Professional development
You are the core of our success! That's why we encourage your further development and training. There are several career paths that our employees can take, depending on preference and suitability.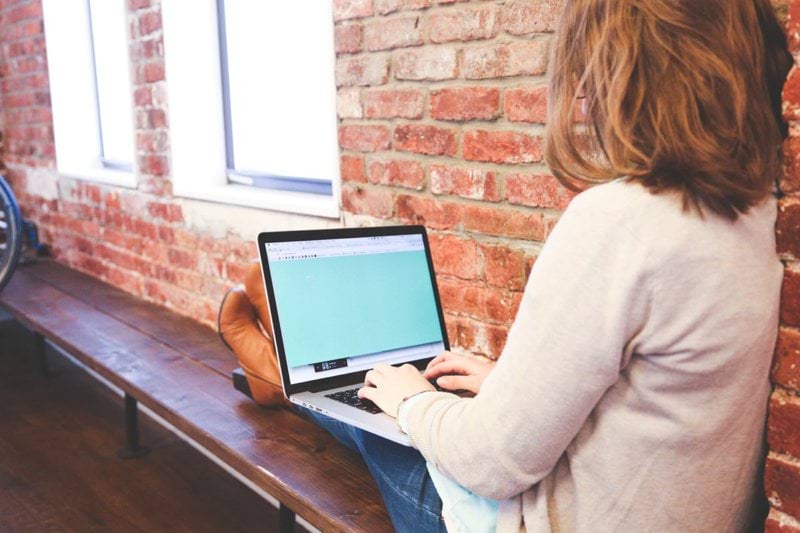 Flexible working conditions
Your work-life balance is important! We offer fair, flexible working hours and overtime compensation as well as the possibility to work remotely.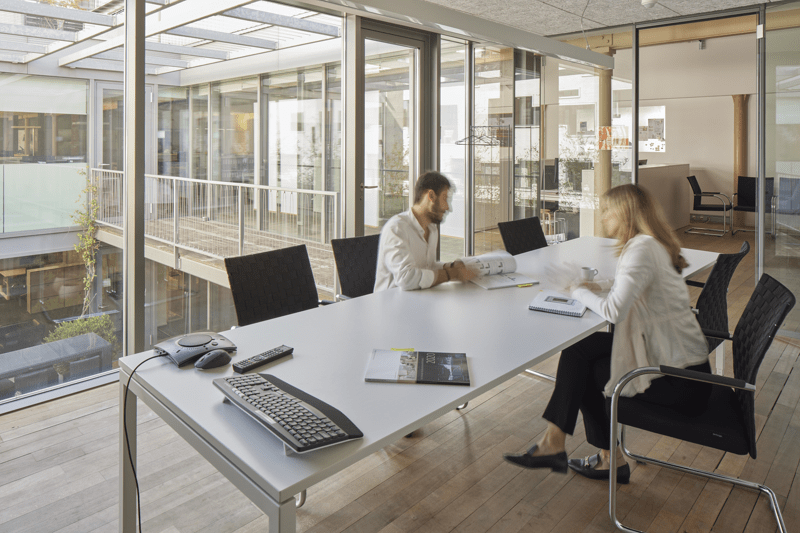 Fair wages
Our employees receive industry-standard salaries and benefits commensurate with their skills. We believe in equal opportunities and equal pay, and our pay structure is reviewed regularly to maintain fairness.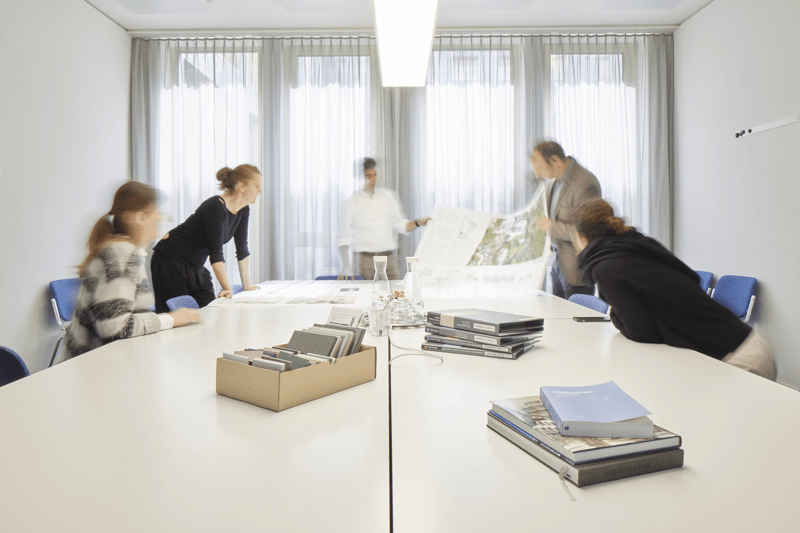 IB belongs to its employees
IB offers key individuals the possibility to own stock in the company. Upon the fulfilment of preconditions, employees are given the option to buy shares.
Attractive environment
Our workplaces are spacious, modern and furnished with high-quality equipment. All our offices are centrally located and easily reached with public transportation. Our employees enjoy various life-simplifying perks such as mobile phone plans and paid coffee breaks.
Our employees enjoy working here
Because we take joy in our work. Because we have big goals. Because our team has strong unity. Because our projects are incredibly exciting.

Julia, Architect

My architectural tastes align in form and content with the design principles of IB. And these shared preferences give me the feeling that I'm in the right place.

Gundula, Construction Manager

I work at IB because tradition meets innovation here, and tolerance and humanity are still important values.

Julienne, Architect

IB offers its employees freedom and support in their professional development.

Fred, Architect/Project Manager

Together we are stronger. One for all and all for one.

Gazmend, Draughtsman
Already working at Itten+Brechbühl AG?
Let's recruit together and find your next colleague.